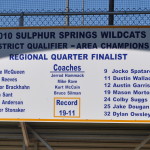 Wildcat baseball returns to Eagle Stadium Friday night May 15th as the locals take on Mansfield Legacy in a best 2 of 3 Area 5-A play-off series. Game 1 begins at 7 p.m. Game 2 is set for Saturday at Mansfield Legacy with a 1 p.m. first pitch. If game three is necessary, it will immediately follow Game 2 at Legacy. KSST will broadcast the games.
A Sulphur Springs High School Wildcat 6-0 lead after the first two innings was more than Whitehouse could overcome Friday night May 9 in Game 2 of their bi-district encounter. The second game began after a three hour rain delay created a late start for the game in Whitehouse. Ben Brooks picked up the game 2 of bi-district win allowing only 2 runs 0n 6 hits.
In the first game of the series with Whitehouse, Wildcats catcher Ryan Ferguson got a clutch two out single that drove home Carson Hick with a winning run in the bottom of the tenth inning as the Wildcats took game one of their bi-district series, 3-2 over Whitehouse at Eagle Stadium Thursday night.  Hicks got on an error and then took second base when Whitehouse forgot to cover the bag.  Hicks moved to third when a pickoff throw hit his helmet and went into short left field.  Kade Hudgins got the win as he threw three scoreless innings in relief.