As of 6:50 p.m. Monday evening, 6,000 Sulphur Springs residents were without electrical power. By 7:30 p.m. Oncor reports there are 7,000 electric meters in Sulphur Springs without power. According to David Collier with Oncor, all electrical power in the city will not be restored by Tuesday morning. Oncor has pledged to work through the night and continually until the problem is solved according to City Manager Marc Maxwell.
Electrical power outages, power poles and power lines down, buildings with substantial roof damage, roadways blocked by downed trees and flood waters, these were just some of the results of a line of severe thunderstorms with winds in excess of 50 miles per hour that moved through Hopkins County and the city of Sulphur Springs Monday afternoon between 4:30 and 5 p.m. Monday afternoon a tornado watch until 10 p.m. was issued for Hopkins and surrounding counties. Around 4 p.m. the National Weather Service issued a severe thunderstorm watch for Hunt and Hopkins Counties until 5:15 p.m.
Reports began coming into KSST with a caller whose car was being shaken by high winds on Hillcrest Dr./State Highway 19. Power outages were reported on Pampa, Alabama, Davis, and Broadway south of Walmart, Brinker, Lee, Houston, and Putnam streets in Sulphur Springs. Also power outages reported at Rocky Ridge, and other areas.
At the Sulphur Springs Airport, two crop dusters were blown into fuel trucks. The copula was blown from the top of the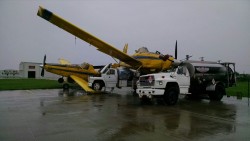 terminal and the sign was blown down. The roof on the Cub Cadet building was peeled back and near Outdoor Power Products, trees and limbs cluttered the roadways. Trees were also across the road ways in Yantis and throughout Sulphur Springs.
Metal roofing material was scattered along Oak Avenue near Martindale Feed. Damage was also done to the gas pumps at Joe Bob's Convenience Store near Memorial Hospital. Eye witnesses said they saw a tornado at the Joe Bob's location and in the Mahoney area where large Oak trees were down.