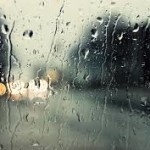 With potentially severe weather in the forecast for most parts of the state, the Texas Department of Transportation reminds drivers to use caution when travelling.
Weather reports indicate severe thunderstorms, hail, strong winds, flash floods and chances for tornadoes are all possible in areas across the state today and into the weekend. As flooding continues to be the leading cause of all weather-related deaths in Texas, TxDOT strongly encourages all drivers to take extra precautions on the road by following these tips:
If water is covering a road, don't try to cross. As little as six inches of water can float some vehicles.
It is illegal to remove barricades blocking lower water crossings. Penalties can range from $200 to $1,000 and/or two years in jail.
Never try to walk, swim or drive through swift water.
If your vehicle stalls in deep water, leave it and move to higher ground if you can do so safely.
Turn around; don't drown.
Also, for added security, consider these safe-driving tips at all times when behind the wheel:
Wear seat belt
Put phone away
Slow down; drive to conditions
Never drive drunk
Obey all traffic laws
Road conditions and traffic updates are available at DriveTexas.org or on Facebook and Twitter.