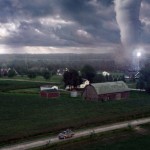 WATCH COUNTY NOTIFICATION FOR WATCH 146 NATIONAL WEATHER SERVICE FORT WORTH TX 10:23 PM CDT FRI MAY 8 2015. THE NATIONAL WEATHER SERVICE HAS CANCELLED TORNADO WATCH 146 FOR THE FOLLOWING AREAS IN TEXAS THIS CANCELS 10 COUNTIES IN NORTH CENTRAL TEXAS:
COLLIN                DALLAS                DENTON
FANNIN                HUNT                  ROCKWALL
TARRANT
IN NORTHEAST TEXAS
DELTA                 HOPKINS               LAMAR
THIS INCLUDES THE CITIES OF…ARLINGTON…BONHAM…COMMERCE…
COOPER…DALLAS…DENTON…FLOWER MOUND…FORT WORTH…
GREENVILLE…LEWISVILLE…PARIS…PLANO…ROCKWALL…
SULPHUR SPRINGS AND THE COLONY.
TORNADO WATCH 146 REMAINS VALID UNTIL 3 AM CDT SATURDAY FOR THE
FOLLOWING AREAS IN TEXAS. THIS WATCH INCLUDES 8 COUNTIES IN NORTH CENTRAL TEXAS:
COOKE                 GRAYSON               JACK
MONTAGUE              PALO PINTO            PARKER
STEPHENS              WISE
THIS INCLUDES THE CITIES OF…BOWIE…BRECKENRIDGE…BRIAR…
BRIDGEPORT…DECATUR…DENISON…GAINESVILLE…JACKSBORO…
MINERAL WELLS…NOCONA…SHERMAN AND WEATHERFORD
Earlier this Friday May 8th evening, the National Weather Service has Issued tornado watch 146 In effect Until 3am CST Saturday for the Following Areas in Texas this watch includes 9 Counties in North Central Texas: Collin Dallas Fannin Hunt Rockwall Tarrant in Northeast Texas Delta Hopkins Lamar this includes the Cities Of, Arlington, Bonham, Commerce  Cooper, Dallas, Fort Worth, Greenville, Paris, Plano Rockwall and Sulphur Springs.