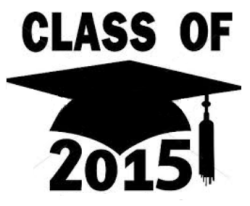 North Hopkins High School has 15 seniors who will graduate on Saturday Jun 6. Commencement will be conducted at 3 p.m. in Panther Gym. Valedictorian is Maruricio Gamez and Salutatorian is Denice Franco.
Sulphur Bluff High School will graduate 13 seniors Saturday June 6th at 5 p.m. in the new high school gym. Their top two graduates will be announced May 29th during awards day ceremonies.
Yantis ISD will graduate 16 in commencement Saturday May30, at 6 p.m. at Lake Fork Baptist Church. Top students are Kaitlyn Davis and Kayla Campbell.
Thirty-three Cumby seniors will graduate in commencement exercises at 7 p.m. Friday, May 29, in the Texas A & M University-Commerce Ferguson Sciences Building.
Miller Grove plans commencement exercises for Friday June 5, 7 p.m.  in Hornet Gym. Thirteen seniors will graduate. William Clinton is valedictorian and Logan Miller, salutatorian. The public is invited to the Miller Grove end-of-school annual stew Friday May 29. 
Saltillo graduates 23 seniors Friday, May 29 in Lions Gym at 7 p.m. Monica Wartenbee is valedictorian and Moresa Shelby is salutatorian.
At Como-Pickton 44 graduate Friday June 5 at 8 p.m. at Ron Heflin Field. Senior Night is Tuesday May 26 at 6 p.m. and the Valedictorian and Salutatorian will be named Wednesday May 27th during their Awards Assembly.
In Mt Vernon, 106 will graduate on Don Meredith Field Friday May 29th at 8 p.m. Zachary Auringer is Valedictorian and Madeline Cox is Salutatorian.
Winnsboro High school will graduate 80 Friday May 29th at 8 p.m. i Red Raider Stadium. Valedictorian is Danielle Yarbrough and Tyson Gerner is Salutatorian.