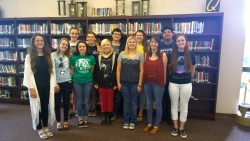 It was another successful visit to the State 5A UIL Academic Meet for the Wildcats in Austin this week. They have a state winning team and two team members finished first and second in the state. The Wildcats were 8th in the state among 58 teams. Wildcats UIL Academic Coordinator is Gina Wilder. Gail Herman coached both teams.
In Literary Criticism McKenzie Hohenberger placed first, Laura Graham placed second, and Patricia Parks placed seventh. MiKayla Jones completed the first place winning team. McKenzie and Laura tied for first place individually, so the tiebreaker essays for each were read. Wilder stated, "The Literary Criticism contest rules state that ties must be broken, but we really had two first-place winners!"
In Spelling and Vocabulary, Lydia Burleson tied for fourth place individually. She, Carson McIllwain, Jenna Ash, and Jessye Castro won second place team. The team was the fourth seed team entering state competition.