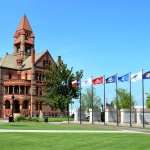 Tuesday afternoon May 12, a Hopkins County Jury returned a guilty verdict in the trial of Jarrod Arnold Smith, 41. Smith was found guilty on one count of aggravated assault with a deadly weapon. The punishment phase of the trial will begin Wednesday morning in the 8th Judicial District Courtroom in the Hopkins County Courthouse.
The testimony in the trial took only a day and a half with closing arguments made Tuesday shortly after noon. Assistant District Attorney Clay Harrison tried the case for the prosecution. The jury took approximately two hours and 44-minutes to deliberate the verdict. Smith was being tried on three counts of aggravated assault with a deadly weapon.
Wednesday morning, Assistant DA  Matt Harris will represent the state in the punishment phase of the trial. Attorney Frank Long is defense attorney for Smith.
According to District Attorney Will Ramsay, Smith was charged in 2012 with aggravated assault for holding a gun to his then wife's head.  That charge ended in a mistrial. He did not fire the weapon as stated in a previous story here. In the 90's, he was placed on probation for beating a female about the head with the butt of a long gun.