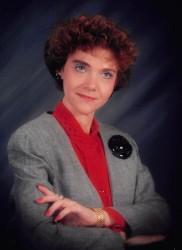 Memorial service for Dr. Shirley H. Tucker, 62, of Pickton, will be held at 3:00 p.m., Thursday, May 28, 2015 at West Oaks Funeral Home with Rev. Oliver McMahan officiating and Tommy Deal assisting. Visitation will be held from 6:00 to 8:00 p.m., Wednesday, May 27, 2015 at West Oaks Funeral Home. Honorary pallbearers will be Charles Pearson, Bill Tucker, Roy Hatcher, Jason Frazier, and Leslie Deal. Shirley passed away on Sunday, May 24, 2015 at her residence.
She was born on December 2, 1952 in Sulphur Springs, TX, the daughter of Troy D. and Myrna Loy Glover Hatcher. She was a graduate of Como-Pickton High School and East Texas State University. Dr. Tucker earned her doctoral degree from the University of North Dakota. She was assistant professor at Sam Houston State University in Huntsville from 1990 to 2012. She was recognized as State Collegiate Business Education Teacher of the year by the Texas Business Education Association. She was a member of Family Faith Church in Huntsville. She served as the Youth Director for Sulphur Springs Church of God and also played piano for the New Birth Assembly of God Church. She married Tommy Tucker. He preceded her in death in 2007. She is survived by her mother, Myrna Hatcher, daughters, Jody Lynn Pearson and husband Charles of Pickton, Casey Tucker and husband Bill of Huntsville, Ginger Elizabeth Tucker of Virginia Beach, VA, son, Tommy Nathaniel Tucker Jr. of Greensboro, NC, grandchildren, Clara Lynn, William Nathaniel, Troy Dakota, Maryn Lillianna, Christopher Charles, great-grandson, Dominick Patrick, and brother, Roy Lee Hatcher of Pine Forest.
She was preceded in death by, her husband, her father, brother, Troyce Wayne Hatcher, and granddaughter, Charity Charlese.
Cremation arrangements are under the direction of West Oaks Funeral Home.