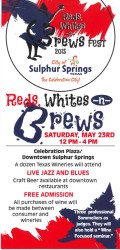 Twelve Texas wineries and several Texas breweries will be represented at the first-ever Red, White and Brews Fest on Celebration Plaza Saturday from noon until 4 p.m. Several events will be featured including a one hour seminar and music. The music during the event will feature jazz. During the evening market that follows Red, White, and Brews, a marimba band will perform.
Sulphur Springs Director of Community Development Shane Shepard said the breweries will be stationed at the restaurants downtown including Louviney Cellars and Bistro, The Grind House, Muddy Jake's Sports Bar and Pub, and Bayou Jack's. For both the wines and the brews, there will be a contest. The wines will be judged by Sommeliers, California based judges. 
From noon until one, a wine tasting seminar will be conducted near the downtown stage area.