A record number of Paris Junior College participated in Friday evening's commencement ceremony. With more than 300 students wanting to walk across the stage to receive their diploma, the ceremony was moved to the Paris High School Gymnasium to accommodate overflow crowds. 
Dr. Pamela Anglin, Paris Junior College President, led the Board of Regents, faculty and graduates in procession. Sophomore Lauren Jeans of Paris, Student Government Association president, gave the invocation. 
"Tonight we have graduates who have received state and national honors in their degree field," said Dr. Anglin. "We have 638 individuals graduating from Paris Junior College with certificates and associate degrees; 38 percent are male and 62 percent are female. They range in age from 17 to 73 years young. They come from all over the State of Texas, across the United States and the globe representing 37 different Texas counties, 23 different states, and 6 foreign countries, Japan, Mexico, Bulgaria, Australia, United Kingdom and Brazil.  
"We have 19 students who will be receiving their associate degrees and will graduate from high school the first week of June. Of these, one is from Sulphur Springs High School and 18 are from Quinlan Ford High School. Four years ago we signed a partnership agreement with Quinlan Ford High School. Quinlan Ford would bus dual credit students to the Greenville campus in the early morning for classes and then they would return to the high school campus by bus after the class was over. These students could take summer classes on campus and complete all the coursework for an associate degree by the time they graduated high school. Quinlan ISD made the commitment to pay the tuition for their dual credit students, saving parents of these students approximately $19,000, which is the average cost of two years at a public university in the state of Texas."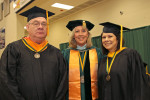 Next came the 2014 Master Teacher Award, announced by Vice President of Academic Affairs Ed McCraw. To be considered peers must first nominate instructors, then a committee reviews nominees. The 2015 Paris Junior College Master Teacher Award has been awarded to co-winners Instructor of Computer Information Systems Marjorie Pannell and Instructor of Nursing Thomas Bass. Each received a medallion, plaque and $1,000 honorarium.
About Pannell, nominating faculty said that she has a clear vision of the college's goals and the needs of the students, helps motivate and encourage students to be successful, strives to stay current in a field where the technology changes almost daily and is respected by students and faculty alike.
Nominations for Bass praised him for being able to communicate and teach effectively to our diverse population of students, exceeding all of the criteria required of this honor, working tirelessly on behalf of PJC and always being available to students, as well as having a commitment to excellence and challenging students and co-workers to give their very best.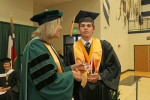 Jeramy Howell of Ladonia received the Distinguished Service Award. Presented annually since 1935, the award recognizes academic achievement and service to PJC and the community by an outstanding graduating student. PJC's faculty and professional staff select the recipient of this award. The first recipient of the award was Louis B. Williams, who later served as president of PJC.
Howell has served as Vice President and President of the Phi Theta Kappa honor society and as a member of the Student Government Association. He was recently elected SGA Region III Vice President, as well as selected for the 2015 All Texas Academic Team for Phi Theta Kappa and is a Distinguished Member of Beta Zeta. He represented PJC at Community College Day in Austin, the Student Government Association State Convention, and the Phi Theta Kappa International and State Convention.
Howell was also named to the Dean's List, the President's List and was nominated to Who's Who Among Students in American Junior Colleges. His activities include being a volunteer fireman for the Ladonia Volunteer Fire Department, a 2015 Mr. PJC nominee, Fannin County CERT, and working as a library aide. He has been accepted to the University of Texas at Austin and will pursue his degree in political science and public administration. He would like to work in higher education.
Other graduating sophomores nominated for the award were Stephanie Bradford of Sulphur Springs, Lauren Jeans of Paris, Taylor McCloure of Pattonville, and Nathan Slinkard of Greenville.