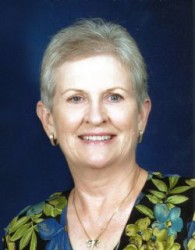 Mrs. Rebecca "Becky" Ann Calvert, age 72 of Lindale, went home to be with the Lord on Thursday, May 28, 2015 at home, with her family by her side.
Becky was born in Sulphur Springs on January 30, 1943 to the late Morris Sheppard Bullock and Mary Ellen Green Bullock. She graduated from Pickton High School in 1961, attended East Texas State University, and The University of Southwestern Louisiana. She loved serving others, and was Sunday School teacher and musician in many churches, she was most recently a member of First Baptist Church of Lindale. Becky enjoyed painting, sewing, pottery and any form of art she could find.
She is preceded in death by her parents.
She is survived by her loving husband of 53 years, Mr. Kenneth Mitchell Calvert of Lindale; son and daughter-in-law, Glen Mark and Monica (Spiva) Calvert of Mt. Pleasant; daughter and son-in-law, Lisa (Calvert) and Jim Lilley of Plano; brother and sister-in-law, Burke Morris and wife Sue (Driskell) Bullock of Winnsboro; several nieces and nephews; four grandchildren, Amanda LaRue Calvert, and Christine Faith Calvert of Mt. Pleasant, Rachel Renea Lilley and Meagan Elizabeth Lilley of Plano.
Becky's' family will receive friends on Saturday, May 30, 2015 from 6:00 to 8:00 PM at Beaty Funeral Home-Winnsboro; funeral services will be held on Sunday, May 31, 2015 at 3:00 PM also at Beaty Funeral Home-Winnsboro, Rev. David Welch, and Rev. Ronnie Stribble officiating; interment will follow at Harmony Cemetery in Hopkins County; David Goodson, J.T. Luper, Tom Koehler, Alan Bullock, Wayne Damon, and Wayne Jones will serve as pallbearers; honorary pallbearers, will be members of the Encouragers Sunday School Class.
In Lieu of flowers, donations can be made to: First Baptist Church of Lindale- Memorial Scholarship Fund, The Hospice of East Texas or Baylor Healthcare System Foundation.