Ceremonies were recently held in the Paris Junior College Hunt Center for students who successfully met testing requirements to receive general education development (GED) diplomas.
PJC Director of Adult Education and Family Literacy Susan Sanchez introduced guest speaker Jimmie Avinger. To inspire the other graduates, Avinger related her story of the struggles she overcame to get her education.
A young teenage mother, Avinger eventually had six children and overcame illiteracy, dyslexia and the death of her mother to obtain her GED. She was a 53-year old displaced homemaker when she began taking GED classes.
Now in the Heating, Air Conditioning and Refrigeration program at PJC, she has been named to the President's List two years in a row, and was recently elected Vice President – Service of Phi Theta Kappa, the national two-year college honor society.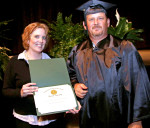 Kelly Faulks of Sulphur Springs received the Lamar County Literacy Council scholarship to be used at Paris Junior College, and was accepted as a member of the National Adult Education Honor Society. His acceptance was based on teacher nominations, good attitude, work ethic and attendance.
Those from Sulphur Springs who have received GED diplomas were Kelly Faulks, Clayton Hanson and Jeremy Patrick.