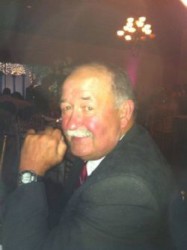 Mr. Melvin Douglas "Doug" Mangum, age 65 of Winnsboro, passed away on Saturday, May 23, 2015 in Tyler. The family will receive friends, on Tuesday, May 26 from 6:00 to 8:00 PM at Beaty Funeral Home-Winnsboro, funeral services will be held at 2:00 PM on Wednesday, May 27, 2015 also at the funeral home, Bro. Richard "Nub" Brown officiating, interment will follow at Lee Cemetery of Winnsboro, serving as pallbearers: Chris Rorie, V.J. Buckland, Talon Bell, Dudley Lovelady, Thomas Garcia, Brandon Mangum; honorary- Kent Cox and Jason Mangum.
Doug was born in Trinity on July 10, 1949 to the late Robert M. and Mary Lavelle Lee Mangum. He worked as a Area Superintendent for TXU, and was a member of First Baptist Church of Winnsboro.
He was preceded in death by his parents; and two granddaughters, Bridgette and Kennedy.
He is survived by his partner, Teena of Winnsboro; son, Chris Mangum and wife Sharla of Rockwall; daughter, Stacie Barnes and husband Kevin of Lubbock; brothers, Bob Mangum and wife Teresa of Rockwall, Danny Mangum and wife Kathy of Lindale; grandchildren, Jhett, Bristol, William, Alex, Kaylie, Kelsie, and Kodi.