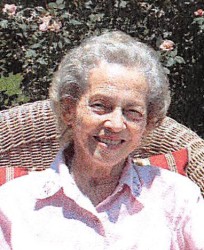 Margaret Irene Sharp, of McKinney, Texas, formerly of Dallas and Sulphur Springs, died May 15, 2015, at age 86.
She was born to Shem Ray and Lucy Margaret Kelty Ray of Sulphur Springs. She graduated from Sulphur Springs High School in 1945. Robert Lee Sharp and she married in 1950 at St. James Catholic Church in Sulphur Springs. They raised five children in Dallas. Their fifty year marriage ended with his death in 2000. Margaret was a homemaker and had many interests notably in nature, animals, fossils, and bromeliads.
She is survived by daughter Patricia Culpepper and son-in-law Wes Culpepper of Austin; daughter Sherry Mathis; and Robert Sharp, Jr.; fifteen grandchildren; and numerous great-grandchildren and several great-great grandchildren. Also she is survived by sister, Billie Sue Ray and brother, Shem Ray, Jr. both of Sulphur Springs; and brother, Gene Ray of Oklahoma City. She is predeceased by son Christopher Ray Sharp and daughter Debra Sue Heinemann.
Vigil visitation Friday, May 22, 7-9 PM. Funeral service Saturday, May 23, 2 PM at West Oaks Funeral Home, 500 S. Hillcrest Drive, Sulphur Springs, TX 78483.. Internment in the Sulphur Springs City Cemetery. Deacon Jerry Besze, officiant.