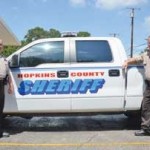 For several nights, two to three car burglaries have occurred in Hopkins County according to Hopkins County Chief Criminal Investigator Lewis Tatum. The burglaries have occurred in the Shaggy area, County Road 3341 where it crosses I-30, east of the country club overpass, on and around County Road 2310, and along FM 2560 in the Martin Springs area.
Lewis encourages rural residents to lock the doors of their vehicles. He said purses and billfolds have been taken along with other items in the vehicles. He also asks that citizens keep watch and should they see a vehicle parked on a roadway to get the license plate and notify the Sheriff's Office. Not only should residents keep their vehicles locked but residents should remove valuables from the autos at night.
Lewis said the burglaries are beginning at 11:30 p.m. and continuing through the night. He said local law enforcement do have one suspect as they continue their investigations.