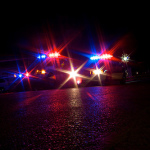 Sulphur Springs will not soon see its most famous pedestrian, a man known to most as Kojak, on local streets. He was injured in a vehicle pedestrian accident in the turn lane on Gilmer Street outside Brookshire's in Sulphur Springs at 9:13 p.m. Sunday. The 56-year old Kojak, whose real name is Dennis Lewis, underwent knee surgery Tuesday morning. According to a family member, the surgery went well and the doctor was pleased with the result. Following his time in the hospital, he will receive physical therapy. The family member said his wrist is also broken but they are not planning surgery at this time.
He was taken by helicopter to the Plano hospital shortly after the accident. On first reports to his family, Kojak was said to have two broken ribs, a possible broken knee and lots of bruises. He suffered no head injuries.
The Sulphur Springs Police Department continues to investigate the accident. Prior to the accident, Kojak was daily walking the streets of the city all over town. His nickname is believed to have come from some members of the police department many years ago.