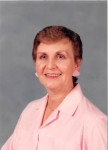 June Morris, age 76, passed away Saturday May 2, 2015 at her residence in Sulphur Springs.
Mrs. Morris was born on March, 12, 1939 in Dustin, OK, the daughter of Bee Harmon and Fannie Mae Blankenship Harmon.  She married Harold E. Morris in Oklahoma.  He preceded her in death.  Mrs. Morris was a sales clerk at Wal-Mart for 22 years and was of Baptist Faith.
She is survived by her daughter, Candice A. Morris of Winston Salem, NC, sons, Richard W. Reynolds, of Sulphur Springs, TX, Randall R. Reynolds of Crowley, TX, brothers, James Harmon of Shallow Water, TX, Joe Harmon of Carrollton, TX, sisters, Jean Harmon of Millsap, TX, Carol Rhea of Bellaire, MI.
She was preceded in death by her husband, parents, and son Harold "Tooter" Morris.
Memorials made to Meals on Wheels.
Cremation arrangements are under the direction of West Oaks Funeral Home.