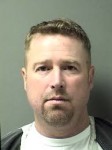 Early Wednesday evening May 13, the same Hopkins County jury that found Jarrod Arnold Smith guilty of aggravated assault with a deadly weapon sentenced him to 10 years in the state penitentiary. During the afternoon Wednesday, the jury twice notified 8thJudicial District Judge Eddie Northcutt that they were divided regarding the sentence.
The punishment phase of the trail began Wednesday morning around 8:45 with witnesses who testified to the defendant's drug use and violence. A female, who lived with Smith from August, 1998 until December, 1998 testified that she and Smith were in a volatile relationship and that he had struck her in the head with the butt of a shotgun. One of her friends also testified to witnessing the violent interaction. In early afternoon, Smith's son took the stand and testified to observing his father's violence toward his mother including holding a knife to his mother's throat and holding a gun to her head in 2014.
The early evening verdict relieved the stress of County Treasurer Jim Thompson, who told KSST news that due to the number of jury calls and jury trials in recent months, his funds to pay jurors would not be able to pay the jurors should they need to assemble Thursday.
Tuesday afternoon May 12, a Hopkins County Jury returned a guilty verdict in the trial of Jarrod Arnold Smith, 41. Smith was found guilty on one count of aggravated assault with a deadly weapon. The verdict was given after a day and a half of testimony given by Texas Ranger John Vance and the victim of the assault who had been shot. The victim had been shot with a .45-caliber pistol at a distance of two feet. The projectile had traveled through his chest, lungs, and exited his back. The victim testified that Smith had then pointed the weapon toward his knee and followed him around a kitchen island begging him not to shoot.
The testimony in the trial took only a day and a half with closing arguments made Tuesday shortly after noon. Assistant District Attorney Clay Harrison tried the case for the prosecution. The jury took approximately two hours and 44-minutes to deliberate the guilty verdict. Frank Long represented Smith in the trial.