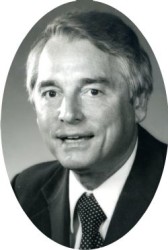 James Burton Thompson peacefully passed away to his eternal home on May 27, 2015 at the age of 86.
He was born in Bulcher, Texas on January 25, 1929, the only son of John Burton and Tennie Germany Thompson. After graduating from Sabine High School, in Kilgore, Texas he attended Baylor University where he received a B.A. in religion. He met the love of his life, Betty Jeanne Clark at Baylor. Betty and James married June 11, 1950 and spent sixty-three wonderful years as husband and wife. James attended Southwestern Baptist Theological Seminary in Fort Worth, Texas where he received Bachelor of Divinity and Master of Divinity degrees. He faithfully served Texas Baptist Churches in Brownsboro, Pickton, Robstown, Mineola, and Calvary Baptist in Beaumont. In 1955, James was named Texas Rural Pastor of the Year. James joined the Stewardship Department of the Baptist Convention of Texas in 1977. He was the director from 1983 until his retirement in 1990. After his retirement, James and Betty were thrilled to move back to their true home in Mineola, Texas. James and Betty spent many happy years with friends and family on their farm.
James loved to travel, fish, bargain hunt and watch his beloved Baylor Bears.
James is survived by his daughter and son-in-law, Karla and Tom Davis of San Antonio, Texas. Papa was dearly loved and will be greatly missed by his grandchildren; Taylor and John Clark of Longview, Texas, Abby and Matthew Goyne of Dallas, Texas, Tori Davis of Dallas, Texas and his great grandchildren; Lola and Thomas Clark.
Visitation will be held at Beaty Funeral Home in Mineola on Saturday, May 30, 2015 from 4 to 6 PM. Funeral service will be held First Baptist Church in Mineola on Sunday, May 31, 2015 at 3:00 PM officiated by Dr. Mark Neeley. Interment will follow at New Hope Cemetery.
In lieu of flowers family has asked to make donations to First Baptist Church in Mineola or Baylor University Truett Seminary.