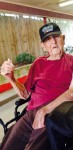 Military graveside funeral services for Jack Dempsey Oxford, Sr., age 91 of Mt. Vernon will be held at 11:00 a.m. Tuesday, May 12, 2015 at Posey Cemetery with Rev. Tommy Hall officiating. Serving as pallbearers will be his grandsons and great-grandsons.  No formal visitation will be held.
Jack, Sr. passed away on Sunday, May 10, 2015 at Mission Manor Nursing Home in Mt. Vernon.  He was born on March 30, 1924, the son of Charlie and Mattie (Dixon) Oxford in Hopkins County.  He married Nadine Dodd and Annie McQueen, who both preceded him in death.  He then married Laura Pool, who survives.  He served in the U.S. Army during World War II and was the retired owner of Jack Oxford, Sr. Paint & Body Shop.
Survivors include sons, Jack Oxford, Jr. and wife, Nita of Sulphur Springs, David Oxford, Sr. and wife, Leisa of Sulphur Springs and James Carr of Saltillo; daughters, Suzi Miller of Jacksonville, Becky Sparks of Mt. Vernon and Jean Gee of Houston; sister, Valerie Harry of Cumby; grandchildren, Jimmy Oxford, Jason Oxford, Jodi Bradford, Jake Morrill, Laura Flournoy, David Oxford, Jr., Ryan Clements, Aaron Clements, Amber Sparks, Cassie Weatherford and C.J. Sparks; great-grandchildren, Meagan Oxford, Tanner Oxford, Jaclynn Oxford, Makenzie Fyke, Kylie Clements, Taylor Morrill, Lucas Flournoy, Matthew Flournoy, Logan Oxford, Tate Tyce, Georgia Bradford and Kolbe Cook.
He was preceded in death by his parents; daughter, Betty Newsome; two grandsons, Rodney Oxford and Josh Morrill; great-grandchild, Cash Reneu; three brothers and one sister.
Memorials can be made to Cypress Basin Hospice.