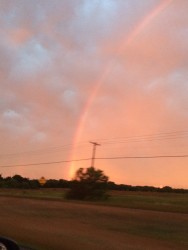 Monday evening ended with a reminder of peace and beauty. A rainbow arched across the southeastern sky as the storm clouds continued their eastward trek across the state.
Specific storm damage stretched from the Sulphur Springs Airport on Highway 19 to Joe Bob's Convenience Store on Church Street. Hopkins County Memorial Hospital, although in the path of the storm, did not sustain damage. For a short time the Hospital did use a generator for power backup. The generator worked well in sustaining the hospital's needs according to CEO Michael McAndrew.
Joe Bob's sustained damage to gasoline pumps while the roof of Cub Cadet on Highway 19 was peeled back. Around Outdoor Power Products on Airport Road tree limbs and trees were down blocking roadways. At the airport the copula on the terminal and the sign were blown down. Airplanes were moved about by the 50-60 mile per hour winds.
No sirens sounded during the storm. The emergency warning sirens only automatically sound with 70 mph winds or are manually intitiated due to a tornado.
Almost all of the city was without power and much of the surrounding rural areas. Although Monday's tornado watch was cancelled almost two and one half hours early, thunderstorms continued to roll across the area.