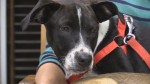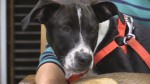 Deborah Balkcom is a volunteer with Hearts of Life Animal Rescue. In an attempt to let people know about her group and what they do for stray animals, Ms. Balkcom visited KSST Wednesday with two wonderful puppies that are available for adoption now.
Hearts of Life Animal Rescue is the only no-kill shelter in Hopkins County, according to Balkcom.  She said there is a real problem with stray animals in the county. Strays on the side of the road as well as animals dumped at the shelter are now being cared for by Hearts of Life. Currently, the shelter is enlarging their building. There are now 27 dogs on concrete and another 27 that are to be placed on concrete as soon as the shelter is completed.
The two puppies with her Wednesday were found in a cardboard box in a ditch during the winter. A bus driver notified the shelter of the location of a total six puppies and two adult dogs. Although the shelter was full at the time (and is full now), Ms Balkcom said it was one of those things–the animals could not be left on the side of the road to freeze. The two puppies are a heeler-mix.
Adoption fees are $90 per animal at the shelter. The fees cover the cost of all shots including rabies and spay or neuter when they come of age. The $90 goes to the vet clinic that assists with the medical care.
The shelter is manned by volunteers and one should call first before going to the shelter to adopt a pet. The number to call is 903-439-5019 to make an appointment. The shelter has both puppies and adult dogs for adoption.