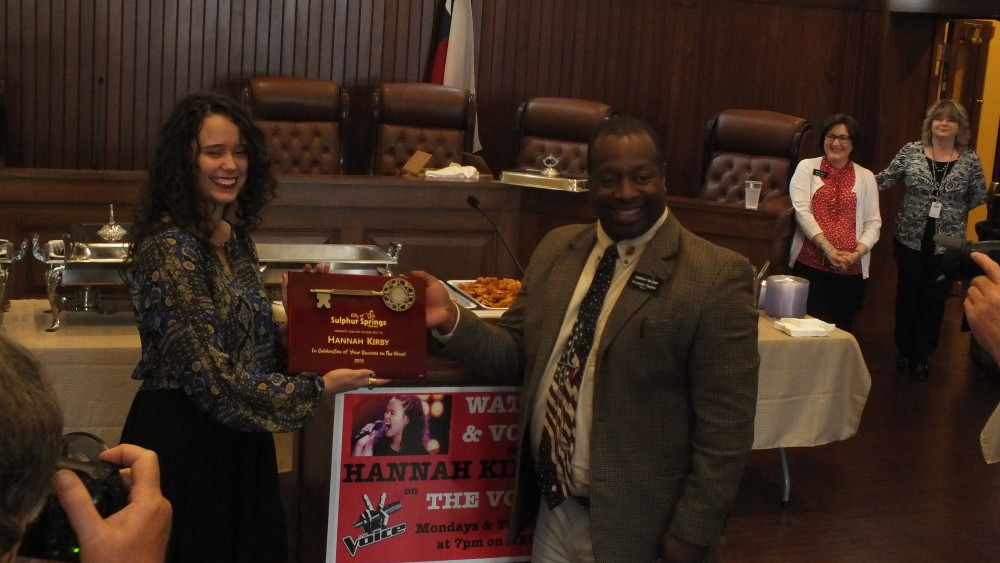 May the 4th is better known as "Star Wars Day" for the saga-lovers. On May 5th we celebrate Cinco de Mayo. May 6th, 2015 now stands alone as a day of its own. Today is Hannah Kirby Day.
Over 100 citizens, friends, family and fans filled City Hall in downtown Sulphur Springs on Wednesday afternoon for a celebration in honor of our hometown superstar, Hannah Kirby. Mayor Freddie Taylor read a proclamation on behalf of the city council declaring May 6th, 2015 as "Hannah Kirby Day" for the city of Sulphur Springs. Taylor also presented the Key to the City to Hannah.
After receiving the award, Hannah spoke to the crowd of supporters saying that she was very thankful for all of the continuous support she received throughout her journey on NBC's The Voice. "This is just an example of the many ways our town supports one another," Hannah said.
Mayor Taylor went on to say "I encourage all citizens to join with us in recognizing Hannah Kirby for her outstanding performance on the Voice…and supporting her as she goes forward with her musical career."
Happy Hannah Kirby Day!