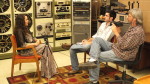 After the experience of being on The Voice, what is next for Hannah Kirby? That was one of the questions KSST's Jordan Owens had for Hannah during an interview recently. The interview was conducted preparation for a documentary of Hannah's experiences in the music world thus far. The documentary, a combination of the interview and video of Hannah performing at various stages of her career thus far will air soon on KSST's Channel 18 on Suddenlink Cable.
Hannah told Owens that she was recording a CD prior to becoming a contestant on NBC's The Voice. She plans an immediate return to the studio to complete the release. One reason she entered The Voice was to build a following for her venture. The album will contain her original music and perhaps a couple of covers. She hopes to release a couple of singles the first week in June and release the full album later in June.
Hannah said "Shout" was her singular choice to sing in performance on The Voice. Songs that she did sing had to be approved by NBC.
In the near future, Hannah expects to perform in the summer or fall at Texas A&M University-Commerce, in the Dallas area, and other regional venues. She hopes to soon be able to tour the country as well.