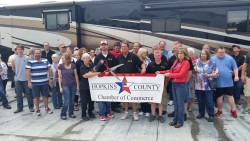 Travel Time RV, located west of Sulphur Springs on the north service road at 1811 W. Industrial Drive, attracted a number of guests and customers Saturday for their Grand Opening. The Opening had been postponed in earlier due to winter weather conditions. Saturday, they faced showers, thunderstorms, and a flash flood warning.
Representatives of various RV brands were present as well as a number of those assisting in making the day a success for the business. A ribbon cutting
conducted by the Hopkins County Chamber of Commerce followed a drawing for a number of recreational vehicles related prizes.
Roy McGahee welcomed those present and told his reasons for establishing the local business. He stated that he grew tired of taking his RV to the Dallas area for repair or service. Having located a local man who now leads his service department, he decided to take the steps needed to establish the business.
Travel Times RV represents various RV brands including: Big Country, Elk Ridge, Road Warrior, Wilderness, Trail Runner, Aspen Trail and Kodiak.