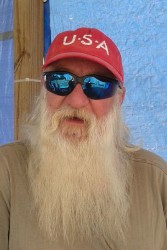 Funeral services for Frankie Lee James, age 58 of Ferris will be held at 11:00 a.m., Saturday, May 30, 2015 at Murray-Orwosky Funeral Home with Bro. Steve Hamm officiating.  Interment will follow at Rockdale Cemetery.  Visitation will be held one hour prior to the service.
Frankie Lee passed away on Sunday, May 24, 2015 at Baylor Medical Center in Waxahachie.  He was born the son of Ollie and Allene (Luttrell) James on September 27, 1956 in Dallas.  He was a gardener and held a degree in Horticultural.
He is survived by his sisters, Barbara Kinnamon of Hallsville, Mildred Hernandez of Princeton, Lanna James Loden of Ferris, Shelia James of Ferris and Shelly Leslie of Ferris; along with numerous nieces and nephews.
He was preceded in death by his parents; sister, Becky Gaston and brother, Kenneth Speaks.