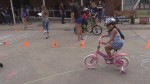 There was a bicycle rodeo at Travis Primary School Friday morning out in front of the school. More than 150 children in seven first grade classes received bicycle helmets purchased by Hopkins County Memorial Hospital. Hopkins County EMS Shift Captain Danny Wilburn.
Wilburn said a helmet is a requirement for one riding a bicycle and each of the students received a free helmet.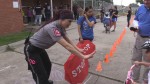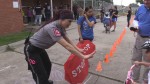 Students were taken step-by-step through scenarios where they could encounter danger while riding. At the end of the driveway entering the street is the deadliest place for a child on a bike.  Wilburn stated children often fail to look both ways before entering the street from their own driveway. The second dangerous place is what Wilburn described as the crazy crossroads. At intersections, children should stop, look both ways and walk their bike across the intersections. Children are swifter on their feet than on their bike and should an auto approach, they can get out of the way with greater speed. Balance was also emphasized in two events the students entered.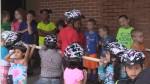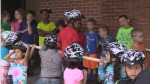 Sulphur Springs High School Heath Science-Technology classes were present to assist in the training.