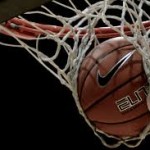 At a signing party Friday afternoon, Lady Cats' basketball star Desi Debase announced she would be playing college basketball at San Jacinto College in Houston. Desi said she should be completely recovered from a torn ACL in her left knee in time for the start of the season. She expects to wear a brace when season starts next October.
Debase had first chosen Oklahoma as her college basketball destination. She said she expects to play point guard for an up-tempo team. She said she like the food in Houston and the girls on the team. She will be playing behind a starting point guard.
Lady Cats Coach Jeff Chapman said Desi was the best guard he had ever coached during his long career in Oklahoma and Texas.
Her new coach, Brenita Jackson, attended the signing party. Jackson said her team looks for good, tough point guards that are competitors. She thinks she has found that in Debase. Jackson is pleased with Debase as a leader, her ability to score points, and as an active defender.