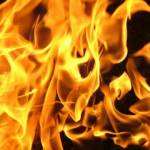 A 75-year old Cumby man was found dead in a mobile home fire. The incident occurred in the 200 block of Mill Street, shortly after 11 a.m. Sunday. The deceased has been identified as 75-year old Richard Pickens.
The man was a smoker and was also on oxygen. Some neighbors reported hearing a loud explosion before they saw fire break out. Several Hopkins County fire units responded. County Fire Marshal Mike Mathews is investigating the cause of the fire. Cumby Police Chief Scotty Sewell is investigating the death.
Justice of the Peace Brad Cummings pronounced the man dead and ordered an autopsy.
Preliminary autopsy results place the cause of death as: Smoke Inhalation and Thermal Burns.