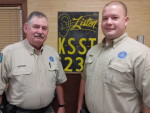 Cooper Lake State Park Ranger Jim Beach and South Sulphur Unit Manager James Adams told Enola Gayon the Thursday Morning Show that the lake is full at 441.5 feet, which is a foot and a half over conservation pool, and the fishing is good that Cooper Lake. Adams has been on the job for over a year. He supervises law enforcement and maintenance.
Adams stated that the lake is high enough that there is lot of water but not too much to interfere with day-to-day activities. He said that crappie fishing is good, catfish will be in soon, and hybrid and sand bass and other species will be readily available as the season progresses. He answers fishermen questions regarding what lures are being successful as well as supervising the law enforcement and maintenance of the South Sulphur Unit.
Adams said that most of the people in his department grew up loving the outdoors. He states their passion for the outdoors is what drove them to this type of work. He encourages high school students to consider the work of a park ranger following college graduation.