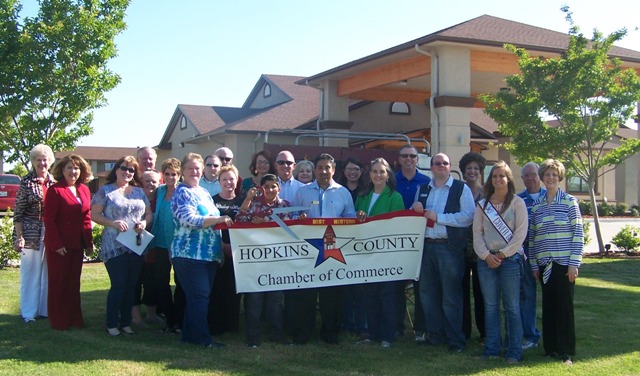 Thank you to everyone who attended the Grand Opening & Ribbon Cutting for Best Western Trail Dust Inn & Suites last Friday evening. It was a wonderful event with live music and food provided by Home Plate Family Restaurant. Guests were entered to win fabulous prizes along with a night's stay in the spectacular Presidential Suite. The Best Western Trail Dust Inn & Suites is located at 1521 Shannon Road, E. in Sulphur Springs. For more information, please call 903-885-7515.
Rotary Club Spelling Bee Dinner & Auction, Thursday, May 7th at SS Middle School Cafeteria
Make plans now to attend the 10th Annual Rotary Club Spelling Bee Dinner & Auction Thursday, May 7th at the Sulphur Springs Middle School Cafeteria! The doors open and auction viewing begins at 5pm. Serving begins at 5:30 with the program and spelling bee starting at 6:30pm. Tickets are only $10 and are available from any Rotary Club Member at the Sulphur Springs News Telegram. All proceeds will be distributed to local charities and for scholarships.
Don't miss the Hamburger Cookout benefitting Heritage Christian Counseling Center-May 8th
The Heritage Christian Counseling Center will be holding their annual hamburger cookout on Friday, May 8 from 11:00 a.m. until they sell out of burgers.  $5 buys a burger, chips, drink, and dessert.  It will be held at the parking lot between the First United Methodist Church and the Alliance Bank corporate office, across from the City National Bank drive through.  All proceeds go the counseling center.  Call 903-438-6829 for more information.
Twogether in Texas Marriage Education Workshop
The next session will be held on Saturday, May 9, from 8:30 a.m. to approximately 3:30 p.m. at the Hopkins County Extension Office.  The workshop is free and engaged couples will receive a certificate to save $60 upon applying for a marriage license.  Topics covered will be marriage expectations, communication, conflict resolution, money management, and goals & dreams.  Lunch and refreshments will be provided by local businesses.  Please call 903-885-3443 to reserve seats
Ribbon Cutting for Silver Cactus Emporium Antique & Craft Mall AND Gospel Opry, May 13th at Noon
Please come celebrate with Buddy and Ina Gore as we host their ribbon cutting for the Silver Cactus Emporium Antique & Craft Mall as well as the Gospel Opry! Whether you need space for a family get together, birthday party, music show, anniversary party…the sky is the limit. They have facilities that include tables & chairs. concert auditorium that will seat 150-200 people comfortable, sound system and lights. Then, the Silver Cactus Emporium is 3000 Square Feet shopping area with booth space available for rent. This is a great opportunity for you to showcase your items without having to have your own store front!!! The Gospel Opry hosts a show every first Saturday with different artists. All of this is located inside the VF Factory Outlet Mall on the Strip Suite #25. For more information, please call 903-951-1405 or 903-885-4262.
May 14, 2015 – 6th Music in the Gardens, 6-7p.m. – Join us as we STOP and enjoy God's peaceful beauty while listening to music and visiting w/friends and family.
The Way Radio Concert Series Presents Building 429 along with Blanca & Rapture Ruckus, May 16th
Don't miss Building 429 in concert at the Hopkins County Civic Center, Saturday May 16th. doors open at 6pm with the concert beginning at 7pm. Blanca and Rapture Ruckus will also be appearing! For tickets, go to itickets.com and they are just $12 for general admission!
Hopkins County Relay for Life-Friday, March 15th -16th from 7pm to 7am on Celebration Plaza.
The American Cancer Society Relay for Life is the world's largest and most impactful fundraising event to end cancer. It unites communities across the globe to celebrate people who have battled cancer, remember loved ones lost, and take action to finish the fight once and for all. Today, with the support of thousands of volunteers like you, the American Cancer Society is helping save more than 400 lives a day. And they won't stop until they finish the fight against cancer! Please join them downtown on the square March 15th & 16th!
Rock Creek Rockin' BINGO Bash May 21st at 6:00pm
Join Rock Creek Health & Rehabilitation for an evening of fun, fabulous food and fantastic prizes donated from businesses throughout the Sulphur Spring Community! Will Ramsey, Sulphur Springs' District Attorney will be calling BINGO and it's a FREE Event!!! For more information, please call Judith Beck, Activity Director, at 903-439-0107.
Are you Divorced or Separated? Divorce Care can Help!!!
Divorce Care is a weekly seminar and support group that will help you heal from the hurt. It's a warm, caring environment led by people who understand what you are going through. You will learn practical information that will help you deal with the challenges of divorce. Best of all, you will gain hope for the future. They meet every Sunday from 9:30-10:30 at First United Methodist Church. For more information, please call Shelia Lunsford at 682-557-2702
We would like to welcome the following members to the Chamber of Commerce
STINSON RV RESORT 3641 East I-30
Campbell, TX  75422
903-455-7878
Margie Stinson
RV Park
That's all for now…have a GREAT week!