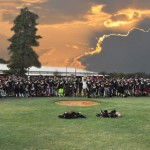 Bright Star baseball game for Monday night, May 11, has been moved to the Sulphur Springs High School Multi-Purpose facility. The game begins at 6 p.m.
No food or drinks are allowed in the multi-purpose facility.
Those attending the game are asked to bring lawn chairs as they cheer for Bright Star players.