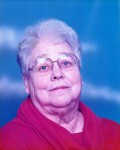 Bernice E. Wogan, age 87, of Emory, passed away Tuesday, April 28, 2015 at Trinity Mother Frances Hospital, in Winnsboro, TX.
Cremation arrangements are under the direction of Wilson-Orwosky Funeral Home, of Emory.  Interment will be at Mt. Lindo, Morrison, CO.  No service is scheduled at this time.
Bernice was born on November 3, 1927, in Palmer Twp, Roxbury, Washington County, Ohio to John and Hulda Ann Smith Work.  She graduated from Bartlett High School, in Bartlett, OH.  During her working career she worked as a meat wrapper in the grocery industry.
She is survived by her daughters: Joyce Roberta Walton, and husband, Travis Earl Childress, Jr., of Emory; and Wanda Kaye Blomberg, of Emory, TX and Ventura, CA; grandsons: Edward Wade Walton, of Arvada, CO, and Roger Anthony Tighe, and wife, Mary, of League City, TX; great-granddaughters: Ella Lynne Walton, Sophia Irene Tighe; great-grandsons: Brendan Anthony Tighe and Holden Matthew Tighe; step-grandson: Travis Earl Childress, III; step-granddaughter: Sunshyne Pothier, and husband, Robert; step-great-granddaughters: Victoria Tracy and Loreli Pothier; step-great-grandsons: Travis Earl Childress, IV, and Carter Pothier; numerous other loving family and friends.Preceded in death by parents; 1 daughter: Mary Jeanette Tighe; 2 sons-in-law: John Anthony Tighe and Edward Lee Walton; brothers: Denver Work, Raymond Work, Clayton Work, Harry Work; sisters:  Ruth Antill, and Flossie Smith; divorced spouse: Joy Wendell Wogan; numerous nieces and nephews.
In lieu of flowers memorial donations may be made to Cypress Basin Hospice, PO Box 544, Mt. Pleasant, TX 75456-0544; The American Heart Association, St. Jude's Children's Hospital or a charity of your choice in Bernice's name.