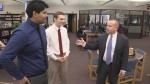 The Sulphur Springs High School Valedictorian for the Class of 2015 is Andrew Allen. He is the son of Bryan and Vicki Allen. The Salutatorian is Ariel Gonzalez, son of Victor and Paulina Gonzalez. They were introduced Monday morning by High School Principal Josh Williams in a meeting with news media members in the school library. Williams said both students had amazing accomplishments during their individual career at the local school.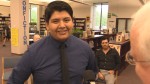 Gonzalez said he had an ambition to go forward in life and thinks academics are the best path. Gonzalez will attend Brown University in Rhode Island following graduation. He said he always tries his best. His motivation for academic achievement began when he entered high school. He credited several teachers for inspiring his work calling teachers at SSHS very supportive and encouraging. During his high school career, Gonzalez has been active in French Club, five UIL Academic Team events including number sense, current events, mathematics, social studies, and calculator. He called his activities time well spent. Gonzalez said he is undecided regarding his future plans. However, mathematics and a career with a government agency has peeked his interest. He credited his parents for his confidence.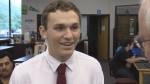 Allen credited half-luck, half-ambition, his parents, and the Lord for his success. A yearning to know what's going on in the world along with his parents' encouragement spurred Allen to his success. He was involved in Academic UIL, Wildcat soccer–which he called a distraction and a time to relax–and cross country. Allen plans to attend Texas A & M University College Station and study mechanical engineering.