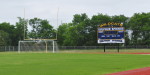 The Wildcats are already into seven on seven season. On May 5, Gilmer brought teams to Sulphur Springs to compete. Last Saturday the Wildcats participated in a Gilmer tournament. Wildcats Football Offensive Coordinator Matt Young says that means that he is putting more emphasis on 7 on 7 looking for players who can throw and catch.  7 on 7 season opened May 5 as the Wildcats Varsity won one and lost one as Gilmer came to town. 
Young said although the varsity won one and lost one but the greater lesson was coaches watching over 70 Wildcats 8th grade through varsity. The Wildcats' football team will graduate a large number of seniors this year.
In pool play in a Gilmer tournament this past Saturday, the Wildcats Varsity handily defeated Lindale and Tyler T.K. Gorman before losing to Liberty-Eylau on a late interception.  The Wildcats advanced out of pool play where they edged past Daingerfield before running out of gas in a second loss to Liberty-Eylau.  Paris will visit next Tuesday.
We get a progress report from Wildcats Football Offensive Coordinator Matt Young.