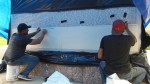 Additional names are being added to the Hopkins County Veteran's Memorial at Celebration Plaza in Sulphur Springs. Two men from New Mexico labored under a tarp cover Monday morning May 11 at the Hopkins County Veterans' Memorial adding the names to a stone.
Veterans' Memorial Committee Member Clayton McGraw was there observing the work. McGraw said the workers arrived Saturday but were hampered by the weather as they attempted to begin their work over the weekend. The stone must be dry for the engraving to take place. The stone was covered in plastic Sunday and a cover placed over the stone and work area Monday as they began their work. Sand used in the process must also be kept dry according to McGraw.
With these names added there are now over 7,000 names on the memorial stones. Over 2,000 more names could be added as donations are made. McGraw said the Adopt a Vet program is sponsoring a number of the names added this week. He pointed out that a number of the names are World War I veterans and they no longer have family living in the area. For many of the names, the veteran's family has donated the cost of having their name placed on the stone. McGraw invites sponsorship by any who would donate.
Names are being added every six months and sponsors of the memorial wanted the current names added before Memorial Day. However, McGraw fears that names will be added only once a year unless more donations are received. Donation information may be found at hcvm.org.
McGraw praised the work of Robert Carpenter for soliciting many of the names for the memorial.