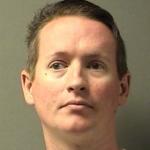 "It will be on a case by case basis. Hopefully, it should not affect too many cases. We will just make sure that the defense is aware of the situation." District Attorney Will Ramsay made the preceding statement following a plea bargain reached for Daniel Madison Winn, 35, in 8th Judicial District Court Tuesday. Ramsay, who had named Gary Young of Lamar County as special prosecutor for the case, made his statement in response to KSST News' question regarding past and pending cases Winn, a former criminal investigator for the Hopkins County Sheriff's office, had worked.
Winn's attorney, Larry Blount, said the deal was reached with the special prosecutor. Tuesday morning, the plea agreement was presented to District Judge Eddie Northcutt. Northcutt will sentence Winn in July. Winn remains on bond until then. Blount said the agreement reached allowed Winn to plead to a 7-count tampering with evidence while another 7-count felony was dismissed. Winn is scheduled to serve 15-months, day-for-day in a state jail facility.
During Winn's time with the sheriff's department, he had worked various cases including specializing in child pornography. Winn had been terminated from employment with the Sheriff's office at the time of his arrest last year.