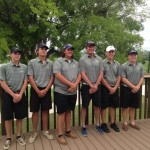 Wildcat golf advances to the state tournament following a third place regional finish in Rockwall Tuesday. The Wildcats, who placed second in District 15-5A, finished behind Texas High, District 15-5A champions, and Lufkin.  It is the first time in this millennium for Wildcat golf to qualify for state.
The Wildcats shot a 609 total for the two days. Seven strokes out of first place but only 1 out of second. The team had played the Rockwall course only twice. The Wildcats tied for the best round on Tuesday shooting a 299 to go with their opening day 310.  Garrett Landers was second place medalist with 141.  Brody Blackmon shot 145, Alex Motes had 159, Mason Maeker 164 and Cason Parks 169.  The State tournament is April 27-28.
Picture courtesy of  Michelle Moody-Blackmon.