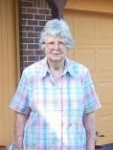 Funeral service for Ruth King McLean Rushin, 83, of Mannford, OK, will be conducted at 10:00 a.m., Saturday, May 2, 2015 at West Oaks Funeral Home Chapel with Dr. Jimmy Henry officiating.  Visitation will be held from 9:00 to 10:00 a.m., Saturday, prior to service time.
Mrs. Rushin passed away on April 22, 2015 at her residence in Mannford, OK. She was born on March 21, 1932 in Temple, TX. She married Junior Rushin in Dallas, TX. He preceded her in death.  She worked for Gate's Rubber Co. for many years.
She is survived by son, James Rushin of  Mansford, OK,  daughters, Elizabeth Beaty and husband Charles of Allen, TX, Lana Dennis of Canton, TX, Linda Pundt and husband Steve of Dallas, TX, grandchildren, Charlie Beaty, Andrew Beaty, Amber Gallegos, Michelle Merchant, Kenneth Dennis, Jerrid Rushin, great-grandchildren, Cooper Beaty, Irelyn Beaty, Valentine Gallegos, Valor Gallegos, Candace Walton, and Christopher Merchant.
Arrangements are under the direction of West Oaks Funeral Home.