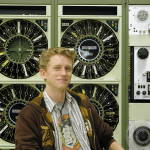 An invitation to George Mason University's Washington Journalism and Media Conference almost went unnoticed by KSST News Intern Steven Payne. Payne will join 204 other invited nominated students from across the nation July 12-17 for the six day conference that will include access to the National Press Club, Newseum and other selected sites around the capital while interacting with nationally known journalists.
Payne does not know who nominated him for the opportunity but does know that his mother, Anne Payne, was the one who took a closer look and encouraged him to investigate the legitimacy of the invitation. When he discovered the event to be prestigious in nature, he immediately applied and was accepted. Although he has yet to discover who nominated him, he is aware that nominations come from teachers, family members, or employers. Acceptance is based on high-achievement and interest in pursuing a career in journalism and media.
While at the conference, Payne will attend private networking events and functions including a private press briefing with a Deputy White House Press Secretary, hear panel discussions that include prominent political journalists and CEO's of the nation's largest media companies at the National Press Club, and attend a private talk with TODAY SHOW host Hoda Kotb. Among others he will meet are Candy Crowley of CNN, Brian Lamb, founder of C-Span, Washington Post Photo-journalist Carol Guzy, and members of the New York Times staff.  He is also trying to secure a private meeting with Representative John Ratcliffe.
Payne hopes to use the experience "to improve my chances of being noticed by college universities and any notable entities in journalism and media profession. Having the WJMC, as well as my internship with KSST Radio/TV and ksstradio.com, on my resume would be very helpful for me in my pursuit of a successful career in journalism. Payne states there are "outstanding circumstances" that would prohibit him from attending George Mason University but "This won't stop me…from pursuing my goal as a national journalist. I would love the opportunity to travel America, and even the globe, in pursuit of breaking news and interesting stories. While it has been both an educative and enjoyable experience working in journalism on a local level, I hope to someday soon expand beyond the borders of Texas to cover the latest developments all over America.
"The newspaper is in its autumn years with the rise of the Technology Era," Payne observed. He continued, "Soon everything will be online and in the palm of our hands. Journalism has successfully managed to adapt and evolve with this change. As a member of the most technologically grounded generation alive today, I know that I will fit right in and go with the flow of journalism's constant change. Ultimately, I would like to someday become a writer for the New Yorker. Perhaps if I'm lucky, I could someday become an author like I've always dreamed of becoming. This has been my goal for quite some time. I know that it won't be easy, and it certainly won't be accomplished sooner rather than later, but I am committed to making that dream become a reality."
Receiving one college credit from George Mason University is not the only reason for attending for Payne. He said this is just the beginning.