KSST News was on hand this morning in Bowling Green, KY for the unveiling of the new 2016 Corvette.  GM officials unveiled the newest version of the 7th Generation Corvette to a crowd of their most loyal enthusiasts at the National Corvette Museum.  Although there were no huge changes in the exterior of this years version of the hugely popular Corvette, some new color choices and combinations were introduced.  One new option, a front bumper camera sensor, that helps parking the low clearance vehicle near a curb was the most talked about and well received option.  Other convenience features, such as an automatic trunk latch, were just icing on the cake of an already awesome vehicle.  Chevrolet's Corvette Production Facility is enjoying unprecedented success since it retooled the factory back in 2013 preparing for the introduction of the redesigned 2014 Corvette.  Since then, factory workers are working extra hours to keep up with the demand.  A new feature during the 2015 model year, Performance Data Recorder, has been enhanced for the 2016 model year.  The PDR can record G-force, steering angle, as well as MPH, gear selection, as well as other data and overlays the info onto a video recording of your driving experience.  Perfect for laps around the track to download later and evaluate your performance, but also a handy tool when you hand over the keys to a valet parker.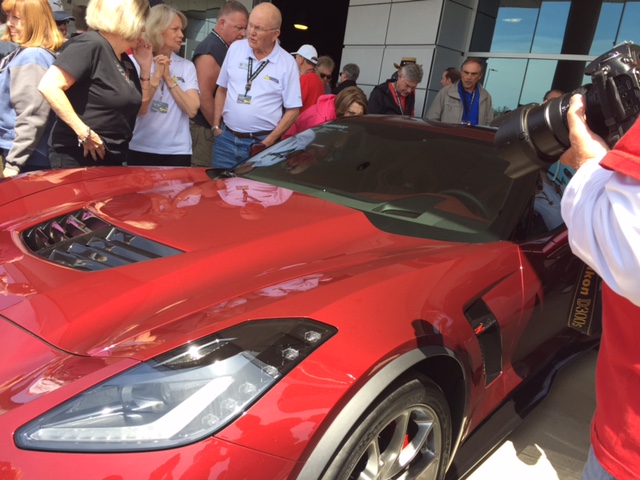 Chevrolet also introduced a deep red metallic color (almost burgundy) called Long Beach Red for the 2016 model year of Corvettes.  With a shaky start in 1953 when the company only built 300 Corvettes that model year and they were all white, Chevrolet now builds almost 200 examples of Corvettes each work day.  All Corvettes are built in Bowling Green, KY and all of the supercharged 650HP engines for the hot Z06 model are HAND built in the same factory.
Also unveiled today, was an extremely limited production edition of the already hot Z06.  The C7.R edition of the Z06 will be limited to only 500 units in the 2016 model year and the price was not revealed.  The new Z06 C7.R will only be available in yellow or black.  Hey, that's twice as many choices as in 1953.