Thursday afternoon, a Thunderstorm watch was issued for North Central Texas but did not include Hopkins County. KSST Weather noted by radar a thunderstorm west of Commerce in Hunt County. Shortly after, at 5:30 p.m. radar was tracking a strong thunderstorm near Commerce, Wolfe City and Campbell moving Northeast at 10 mph. Nickel size hail and winds up to 40 mph were possible with the storm. The storm also was expected to stretch along Interstate 30 between Mile Markers 102 and 110. Hopkins County was then included in a weather advisory until 6:15 p.m.
At 6:09 p.m., the radar was tracking a strong thunderstorm over Cumby with half inch hail and 40 mph winds possible. The storm was expected to stretch from Mile Marker 109 to 128 asthe storm changed directions. Frequent cloud to ground lightning was occuring with this storm. A general thunderstorm watch was in effect until 10 p.m. and a watch until 7 p.m.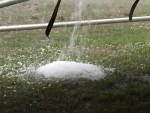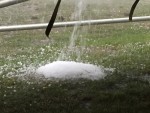 Meanwhile a storm in Rains County was moving across Lake Fork into northeast into Wood County. It would eventually move northward into Hopkins County. As the storm passed the Lake Fork area, large hail covered the ground. At 7:12 p.m., this thunderstorm had reached Como and was moving northeast at 25 mph. Dime size hail and winds in excess of 40 mph were possible. I-30 Mile Markers 114-142 were expected to be within the boundaries of the storm. The warning was extended until 8 p.m.
A flood advisory for southwestern Hopkina County was issued at 6:24 p.m. as heavy rain due to thunderstorms reached from Cumby to Lone Oak to Sulphur Springs. The flood warning was to end at 7:30 p.m.
After the thunderstorm passed through Sulphur Springs, it was immediately followed by sunshine. The weather alert for North Central Texas were concluded by the weather service shortly before 8 p.m.