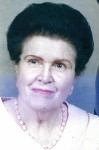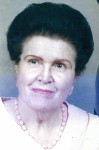 Funeral Services for Doris Ariel Herman, age 95 of Sulphur Springs will be held 2:00 p.m., Saturday, April 25, 2015 at Tapp Funeral Home with Noel Bailey and Kenneth Dean McLemore officiating. Interment will follow at North Hopkins Cemetery with Ricky Gilliam, Steve Mitchell, Archie Collins, A.G. Sandifer Buck Stevens and Willie Krecek serving as pallbearers.  Visitation will be held one hour prior to the service.
Doris passed away on Tuesday, April 21, 2015 at Hopkins County Memorial Hospital. She was born November 14, 1919 the daughter of Thomas Matthew and Hetty Ariel (Palmer) McLemore. She married Arlis McKinley Herman on September 10, 1938 in Mt. Vernon.  She was a bookkeeper and a member of Dike Church of Christ.
Survivors include son, Arlis "Mac" Herman, Jr. and wife, Claudia of Sulphur Springs; brother, Tom McLemore, Jr. and wife, Gracie of Sulphur Springs; sister, Valerie Taylor of Louisville, KY; grandchildren, Kevin Thurman and wife, Tami of Jefferson City, MO, Jeremy Herman and wife, Kerry of Sulphur Springs, Scarlett Gibbins and husband, Chris of Sulphur Springs, Devyn Ariel Herman of Davie, FL, and H.G. Medellin of Spokane, WA; great-grandchildren, Erik, Heather, Tony, Heidi, Kristen, Katelin, Quientin, Garrett and Daniel Thurman, Mollie Gibbins, Lexie Moore, Tori Moore and Jace Herman; great-great-grandchildren, Shaun, Gracie, Kayden, Addison, Cloe and Emmitt.
She was preceded in death by her husband, Arlis McKinley Herman, Sr.; daughters, Carolyn Sue Thurman and Florrie Ann Herman and sister, Sibyl Click.
Memorials can be made to Meal-A-Day c/o Senior Citizens Center, 150 Martin Luther King Blvd., Sulphur Springs, TX  75482.