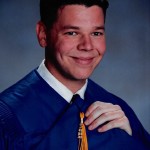 "Why are the three arresting officers still on duty while an investigation of the death of Chance Ross is being conducted?" This was the question asked by his brother, Chad Ross Tuesday night April 7th during the regular session of the Sulphur Springs City Council.
Public comment, proclamations, and announcements, item 12 on the Council agenda, was moved to the fourth item for their consideration. The council provided center stage to Chad Ross, brother of the late Chance Ross. Chance Ross died while in custody of Sulphur Springs' city police and the Hopkins County Sheriff's deputies. He was incarcerated after having been tased repeatedly by officers during his arrest. Texas Ranger John Nance is currently investigating the cause of death, actions of the officers, and awaiting the result of an autopsy.
Chad Ross stated that the family had viewed video of his brother being brought into jail without a shirt and having burn marks on his shoulders that seemed to have been the result of his having been tased. Ross said his brother was handcuffed and escorted by three Sulphur Springs officers and that three county officers assisted those officers in stripping his brother of his pants and placing him in a cell.
City Manager Marc Maxwell and Mayor Freddie Taylor responded to Ross stating that the council could not respond while the investigation was being conducted. However, Maxwell assured the Ross family that he would meet with Chief of Police Jay Sanders Wednesday to discuss the matter of the arresting officers being on active duty at this time.
Following Ross, a letter addressed to the council was handed to them and read.  The letter, citing incidents of unreasonable and excessive force violating civil rights of individuals by police officers in other places asked that the city place the arresting officers on administrative leave pending the outcome of the arrest.