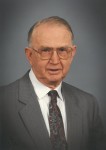 Funeral services for Aulbert "A.P." Stone., age 93 of Sulphur Springs will be held at 10:00 a.m., Wednesday, April 29, 2015 at First Baptist Church Sulphur Springs – Spence Chapel  with Rev. Mark Bryant, Rev. Fred Lewis, Rev. Tommy Johnston officiating.  Interment will follow with military honors at Restlawn Memorial Park with Sam Stone, Shane Stone, Stephen Bonner, Sam Johnson, Rodney Coke and Bert Kirkpatrick serving as pallbearers.  Honorary pallbearers are Andy Hill, John Willis, David Gulley, Warren Attaway, Danny Coke, Robert Carpenter, Gene White, Walter Grice and James Nelson.  Visitation will be held Tuesday, April 28, 2015 from 6:00 to 7:30 p.m. at Murray-Orwosky Funeral Home.
Aulbert "A.P." passed away on Sunday, April 26, 2015 at Carriage House Manor following a lengthy illness.
He was born on February 2, 1922, the son of Arch Alexander and Minnie Dora (Skinner) Stone in Poteau, OK.  He proudly served his country in the U.S. Air Force during World War II.  Aulbert was a Master Mason for sixty years.  He was a member of the First Baptist Church Sulphur Springs where he taught Sunday School, was a member of the Brotherhood, Silvertone, and the Sanctuary Choirs.  A.P. enjoyed square dancing and playing 42 with his friends.  He had a never ending love for the children in his neighborhood and the others that surrounded his life.  The warmth that it gave him to see the smiles on their faces whether it was from giving them Halloween candy or a dollar for their birthday or the hugs they gave him just because he was Mr. Stone was priceless.  Yet, nothing could compare to his joy and pride he felt as he watched his two grandsons grow and mature into the men they have become.  After he completed his service in the US Air Force he returned to Sulphur Springs, purchased forty-five acres and started his own dairy business.  After forty-one years he retired in 1988, a successful businessman and proud of his accomplishments.  During this time he served nine years as a director of Northeast Texas Farmers Co-op.
He married Ruby Nell Hill on September 18, 1954 in Sulphur Springs.  She survives.
Other survivors include his son, Stephen Stone and wife Sheri of Lometa, TX; sister, Emma Dee O'dell of Sulphur Springs and grandchildren, Sam and Shane Stone.
He was preceded in death by his parents; one son, Preston Stone, one sister, Tina B. Otto and one brother, Rev. Archie Stone.
Memorials can be made to the First Baptist Church Sulphur Springs, 116 Oak Ave., Sulphur Springs, Texas  75482