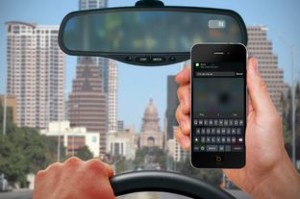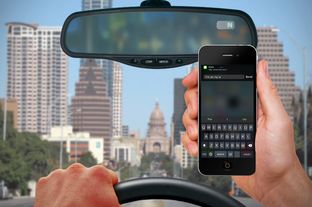 photo illustration by: Todd Wiseman
by Eva Hershaw, The Texas Tribune – March 5, 2015
Doctors, law enforcement officers, and family members of crash victims gathered Thursday at the Capitol to testify in support of a statewide texting-while-driving ban.
The House Transportation Committee did not take a vote on House Bill 80 by state Rep. Tom Craddick, R-Midland, which would make texting while driving a misdemeanor across Texas, punishable with a fine of up to $99 on first offense and up to $200 for additional infractions. A companion bill, Senate Bill 25, has been filed by Sen. Judith Zaffirini, D-Laredo.
"Texting is the king of distraction," Beaman Floyd, executive director of the Texas Coalition for Affordable Insurance Solutions, an alliance of insurance providers, told the panel. "It is time to change the culture that considers it acceptable to use electronic devices while behind the wheel."
Forty-four states now ban text messaging while driving. In Texas, 38 cities have local bans on texting while driving.
The father and grandfather of Brandon Abrams believe a statewide texting ban could have saved the life of the 6-year-old boy, who was killed in a distracted driving accident in 2013. Both men testified at the hearing.
"I remember the seat belt law, and I was against it until I got my first ticket. Now I click it. It's as simple as that," said Steve Abrams of San Antonio, Brandon's grandfather. "We will teach the people to do it. Saving one life is substantial."
Troy Abrams delivered emotional testimony replaying the events surrounding his son's death – the phone call he received from his daughter, finding his son wrapped around a fence in front of their house, and watching him receive CPR to no avail. Several panel members were visibly moved. "Today, you have the opportunity to affect millions of lives, positively or negatively," he told the committee.
In a written statement, the Texas Medical Association expressed its support for the bill, noting that more than 95,000 crashes and 460 deaths in Texas were attributed to distracted driving in 2013.
"By eliminating texting while driving across the state and promoting distracted driving education for Texas drivers, HB 80 will help reduce costly and preventable injury and make our roads safer for all Texans," the association said in the statement.
Warren Diepraam, an assistant to the Waller County district attorney, emphasized that distracted driving incidents still go largely underreported.
"We are only scratching the surface in the number of fatalities and damage happening as a cause of distracted driving," Diepraam told the committee. "This bill will go a long way to addressing those fatalities. People will understand that it is not only bad, which they understand now – they will understand that it is a crime, and that will change behavior."
Critics have called such legislation a misguided attempt to control behavior. Former Gov. Rick Perry vetoed similar legislation in 2011, and another bill in 2013 failed to gain traction. Gov. Greg Abbott indicated last year while campaigning that he did not support a statewide ban, saying that it would "micromanage adult driving behavior."
But Craddick, a former House speaker, said he feels positive about the measure passing this year, in part because Abbott's staff members have attended hearings and briefings on the proposal.
"More people are seeing the accidents happen, they are seeing the deaths mount, they are seeing people texting and weaving all over the road in front of them," Craddick said.
Disclosure: The Texas Medical Association and the Texas Coalition for Affordable Insurance Solutions are corporate sponsors of The Texas Tribune. A complete list of Tribune donors and sponsors can be viewed here.