Team Phannah ???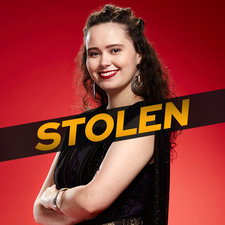 Pharrell Williams was the big winner in last night's episode of "The Voice" by stealing local artist Hannah Kirby when her current team captain Blake Shelton chose Sarah Potenza over Hannah during a Battle Round.  As soon as Blake chose Sarah, both Adam Levine and Pharrell Williams buzzed in to try and "steal" Hannah, but it was Pharrell that ultimately convinced Hannah to be on his team.  It was apparent to anyone watching that all of the other judges thought that Hannah's performance edged out Sarah Potenza's performance, with Pharrell commenting that Hannah came back strong when it appeared that it was an even performance. "She [Hannah] was like 'no you don't!' She just walked over there swinging her purse like a southern church lady," said Pharrell. "You are afraid of no one."
All four judges seemed to be "blown away" by Hannah and Sarah's vocal battle. Christina Aguilera admitted that she was surprised with Hannah's performance and how she "blew it out of the water." Adam Levine mentioned how Sarah was a tough competitor only to go on and say that Hannah has shown up and means business. "Hello, Hannah!" Levine exclaimed. Levine went on to compare Hannah's performance and delivery to that of superstar Stevie Nicks. Hannah's now former vocal coach, Blake Shelton, said that this battle "was the best battle I have been a part of."
After a sales pitch from Adam Levine for Hannah to join his team, Pharrell had to prove himself worthy of her talents. "I'm not going to try to change you or turn you into anything other than what you are," said Williams. "I just want the opportunity to work with someone like you. I have never worked with anyone like you," Pharrell pleaded. Hannah confidently chose Pharrell over Adam. When asked about her decision, Hannah told host Carson Daly that she "felt a spiritual connection with Pharrell" that led her to choose Williams over Levine.
Hannah Kirby will continue her quest towards becoming the champion of the 8th season of NBC's The Voice. The next episode of The Voice will air next Monday night at 7PM.