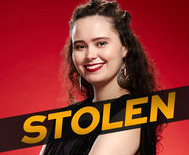 Hannah Kirby may have lost the knockout round to Caitlin Caporale Tuesday night on The Voice but the drama did not stop there. The Sulphur Springs native who began playing voilin at age 8, sang Steve Winwood's "Higher Love" while New Yorker Caporale picked up the knockout with Demi Lovato's "Warrior".  The knock out may have displaced Kirby from Pharrell's team but Blake Shelton may have picked up the last laugh was he stole Hannah back to his team.
In the competition, the songs made evident the style of Pharrell's music fit Caporale's voice in a more natural presentation. Hannah's voice seemed to strain slightly in the styling of her song. With Shelton's team and understanding of the Sulphur Springs connection, Hannah should have a better option in music in the next opportunity she will face.
A downtown watch party gave local support to Hannah and will again at the next opportunity.