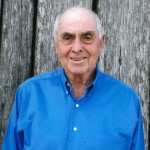 Odell Baxley, 90, a life-long resident of Hopkins County, left his earthly home to rejoice in his eternal home with Christ his Savior on March 23, 2015. He passed peacefully from this life surrounded by his family at Carriage House Manor.
Odell, "Papa," was born on August 31, 1924 in Sulphur Springs to Leonard and Lillie Ann Owens Baxley. He would fondly recall times he spent coon hunting or looking for arrowheads in the creek with his brothers growing up. His family lived in the Union community and would make the trip to Sulphur Springs by wagon only twice a year when he was young.
He attended elementary school at Park Springs and Union Schools. He graduated high school from Sulphur Springs. He left with a talent at spinning tops and playing marbles that he later enjoyed showing his grandkids. Following his graduation, Papa bravely and dutifully answered the call to serve in World War II.
He served two years as private first class in the 87th Mountain Infantry Division, Company D in Italy, Yugoslavia, and Austria during World War II, earning a Purple Heart and a Bronze Star. He rarely wanted to share the heartache he experienced during the war, but he will always be our hero. And the best birthday he ever had was his 21st because he got to celebrate it back at home after the war.
Always a hero, he stopped to help some stranded motorists in Reilly Springs and met the love of his life, Ima Jean Hurley. They married on May 28, 1949 in Sulphur Springs. He worked at TEMCO Aircraft Co in Greenville and was a career dairyman. Odell was a faithful member of Union Baptist Church, where he served as a deacon, since 1939.
Papa said his greatest goals in life were to be a good daddy, a good grandfather, and most of all, a good Christian man. He had a "quiet and gentle spirit, which in God's sight is very precious" (1 Pet 3:4).  And the legacy he leaves with seven grandchildren and six great-grandchildren is a testament to God's blessings in his life. His greatest happiness came from spending time with his family.
Odell Baxley leaves to cherish his memory daughters Charlotte (Kenneth) Baxter, Sheila (Arvis) Tanton, and Lesa (Larry) Knotts, all of Sulphur Springs; his grandchildren Kenny Baxter, Joey Baxter, Sharla Tanton Campbell, Shandra Tanton Dunn, Larissa Knotts, Lance Knotts, all of Sulphur Springs, Landon Knotts of Austin; and sister Arlene Dollar of New Boston, brother Rev. Larry Baxley of Sulphur Springs.
He was preceded in death by his beloved wife, Ima Jean Baxley, in 2014; his parents Leonard and Lillie Baxley; four sisters, Esther Dickey, Maurine Baxley, Wilma Baxley, Cleo Acker; five brothers, Arville Baxley, Murrell Baxley, L.C. Baxley, Ray Gene Baxley, Thelbert Baxley.
Pallbearers will be James Paul Baxley, Joey Baxter, Kenny Baxter, John Campbell, David Dunn, and Landon Knotts.
Visitation for Odell Baxley will be held Tuesday, March 24, 2015, from 6:00 – 8:00 PM at Murray-Orwosky Funeral Home. Funeral services with military honors will be held at 10:00 AM, Wednesday, March 25, 2015 at Union Baptist Church with Rev. L.D. Baxley officiating. Interment will follow at Reilly Springs Cemetery.
Arrangements are under the direction of Murray-Orwosky Funeral Home.