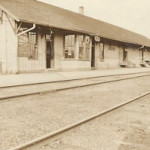 Mt Vernon will explore the city's heritage and plan for future celebrations of its heritage Thursday, March 19. Seminars on various heritage tourism topics will be conducted from noon until 4:30 p.m. in various rooms of the 1894 Cotton Belt Depot. The seminars will be followed by a reception from 5 until 7 p.m. The reception will include craft beer tastings of a wide variety of Texas beers, tamales prepared in Mt. Vernon (pork tamales and queso and chile tamales) and lemonade and cookies to round out the family friendly atmosphere.  The depot's model trains will be running during the reception.
At 5:45 p.m. there will be a brief introduction of tourism and economic planners in the depot freight room, according to B. F. Hicks. Hicks invites the public to come for all or part of the event. Registration will be conducted at the door and participants may claim a free Mt. Vernon-Better Than Botox coffee mug and pick up a Driving Mt. Vernon booklet setting out the history of the town and its houses (with details on the haunted houses).
According to Hicks, Mt. Vernon is one of three Texas cities selected to participate in the State's Bankhead Highway Project. The Bankhead Highway was the second transcontinental route for automobile traffic. The Bankhead stretched from Washington, D.C. to San Diego, California.  The highway's centennial will be celebrated in 2016 and Mt. Vernon's Main Street lies directly along the original highway route.  The highway remained the principal thoroughfare across the American south through 1939.  The Texas Historical Commission team aims to promote this highway route for heritage tourism in a fashion similar to the promotion for US Route 66.
Mt. Vernon has also been selected for a pilot program for The Texas Courthouse Square Initiative. The Initiative project is designed to promote recipients of courthouse restoration grants. The Texas Historical Commission has assigned a team of city planners for marketing and business development; professionals who focus on curb appeal, public spaces, events and retail displays to attract and return people to the courthouse square.